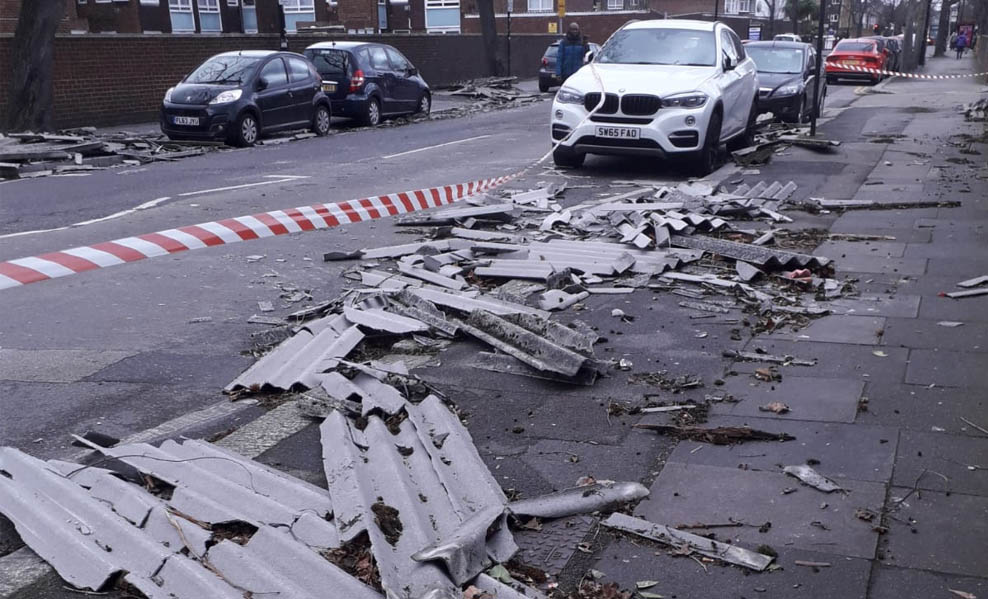 The devastation caused by Storm Eunice in February triggered our emergency asbestos services in London. The storm, which battered most of South England with wind gusts of up to 120mph, caused roof sheets containing asbestos material to be ripped-off garages in the London Borough of Haringey scattering the potentially hazardous material across a wide area.
We were called-out to clear debris from gardens, verges and some material that had found its way onto Lansdowne Road. Our operational teams, who arrived to affect the clear-up, were accompanied by trained traffic marshalls who facilitated short-notice road closures using signage and temporary traffic lights to enable operatives to safely access and remove the roof wastes from the highway.
Joe Labeur, Asbestos Supervisor for London Borough of Haringey, commented:
"We were really impressed with Clifford Devlin's quick response to the emergencies caused by the storms and professionalism from their operational team during the call outs"
Clifford Devlin provides an emergency asbestos service to a number of clients including London Boroughs of Haringey, Camden, Lambeth and Newham, Dartford Borough Council as well as properties maintained by ENGIE (Equans) within the M25 area. This provides clients with attendance by trained and fully-resourced operatives to make-safe areas where suspected asbestos-containing materials (ACMs) have been exposed, usually in unforeseen circumstances.
Our emergency service is typically provided on a 24/7/365 basis. During office hours our Contact Centre will use GPS/postcode tracking to identify the location of our operational teams and will typically select the closest team to the emergency location and instruct them to attend the site. Out-of-Hours emergency calls are re-routed an "on call" team.
Wearing full PPE/RPE our response teams assess the nature of the emergency and, if feasible, resolve the situation or 'make-safe' the area. This may involve establishing a 'respirator zone' (which may be as simplistic as closing the door to the room, sealing it off and posting warning signs to more complex solutions involving the installation of airtight enclosures depending upon the condition of the ACMs) before carrying out an emergency decontamination of the area.
In some circumstances we will arrange for an analyst to be present to take samples and/or conduct air testing if structural damage has occurred and high-risk debris has been scattered throughout a wide area or if the contaminated area needs to be re-occupied immediately (e.g. utility site) or soon after (start of next business day).
Response times for reactive works are typically arranged on a priority system: Priority 1 emergencies involving suspected ACMs in occupied areas will typically require attendance within 2 hours. Priority 2 and 3, which do not pose an immediate health & safety risk, often require attendance in 24/48 hours and 7-14 days respectively.