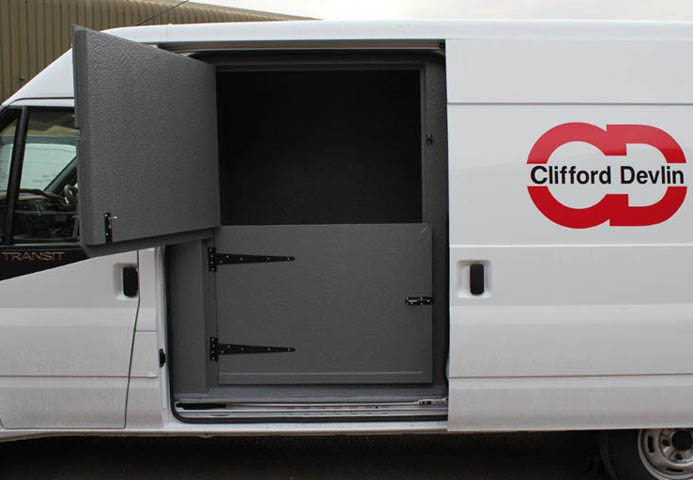 London-based asbestos contractor, Clifford Devlin, has unveiled a safer, way for transporting asbestos waste. The company has taken possession of four new purpose-built vehicles, one duty of which will be to transport asbestos containing material (ACMs) from site to its Waste Transfer Station in East London.
The Ford Transit vans, , have been customised with a completely air-tight compartment which prevents fibres from being released during transit. The specialist coating also makes the vans easier to clean. The 2.5 cubic metre receptacles, which can only be accessed from the side-loading door, were seen as a 'must have' requirement by Managing Director Tim Clifford, who is a past member on the Governing Council of the industry trade body, the Asbestos Removal Contractors Association (ARCA).
"The HSE is constantly urging the industry to find ways of improving its health and safety processes and in particular our procedures for transporting asbestos," he said, "These new vehicles address their concerns about the potential release of fibres during transit and help to further protect our workers and the public from exposure."
The vehicles also deliver environmental benefits being fitted with a state-of-the-art fuel management system which detects and reports on the fuel expended during journeys: "This tracking system evaluates a driver's fuel-efficiency during a journey which will enable us to identify and improve the driving style of operatives and ultimately reduce the cost and carbon footprint of our asbestos removal operation", added Tim.
Clifford Devlin's Asbestos Division has been providing responsive asbestos remediation for development and refurbishment programmes throughout London and the South East for nearly 30 years.
The company, which employs over twenty trained asbestos removal operatives, operates its own licensed waste transfer station which is located in Bow. The site is capable of processing up to 32 cubic metres of asbestos waste on a daily basis and can be used by clients who require immediate disposal of damaged or fly-tipped ACMs. It is particularly useful for smaller London-based projects where it may not be feasible or cost effective to have an enclosed skip located on site.