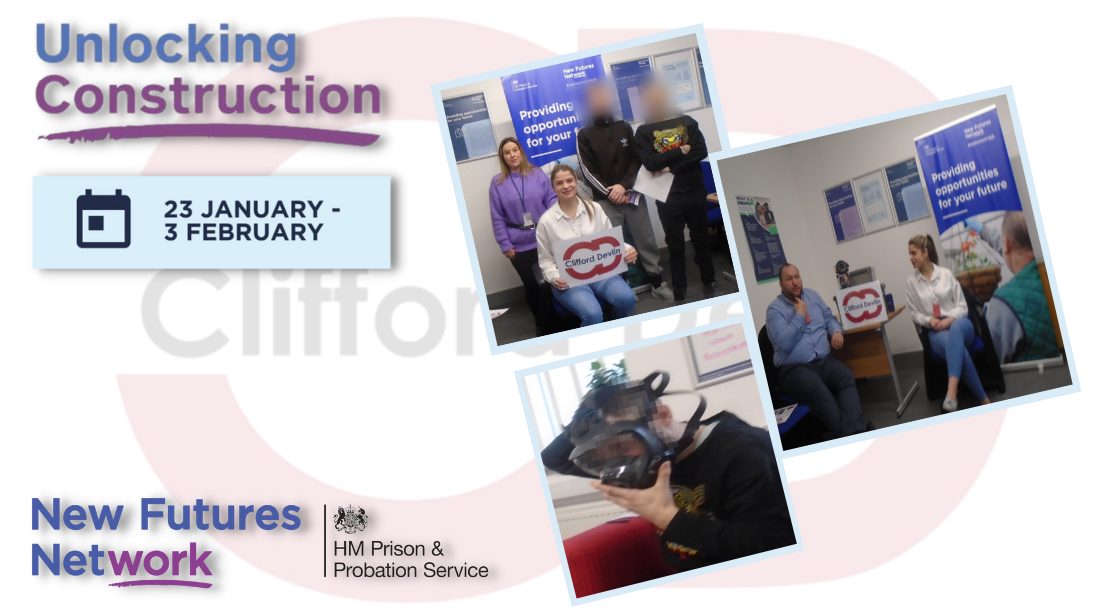 During the last two weeks, Clifford Devlin have been taking part in The New Futures Network national recruitment drive, 'Unlocking Construction'.
Our Social Value lead Rebecca Redmond BSc MA and Asbestos Compliance Manager Steven Greenhalgh have been visiting prisons across London and Essex to provide employment opportunities for returning citizens during the Unlocking Construction fortnight.
The events involved the Prison Employment Lead, Banking and ID Personnel, Accommodation Services and employers, all with the same aim of providing advice and guidance to those returning citizens.
To create an informative and useful experience, we were able to bring in equipment to demonstrate to the inmates what the role entails as an asbestos operative. This included both a full-face power assisted respirator and a half mask ori-nasal respirator. We believe that bringing in some of the tools and equipment that will be used in the practical application of the job, so the men can really see and have some experience of what the job involves, is important in helping them make an informed decision about what discipline they want to start their career in. We also discussed the roles available in the demolition industry and the pre-release or after release training that we can offer with Number 8 Agency.
Rebecca Redmond, Social Value Lead said ''I think the Unlocking Construction events have been a great idea. We have had great feedback from the prison employment leads as well. At Clifford Devlin, we offer sustainable employment and training, so the opportunity to speak directly to the inmates and to better explain what we can offer, as well as answering any questions, really makes the difference. The inmates have been engaged throughout and really want a second chance. It is a tangible benefit to be able to showcase real examples of previous inmates that are now on apprenticeships with Clifford Devlin, as it demonstrates that we aren't just ticking a box, but rather that we are making a real difference to people's lives. Thank you to New Futures Network for creating the event and hopefully this recruitment drive will help to close the skills gap in the industry''.
We look forward to taking part in the next Unlocking Construction event.