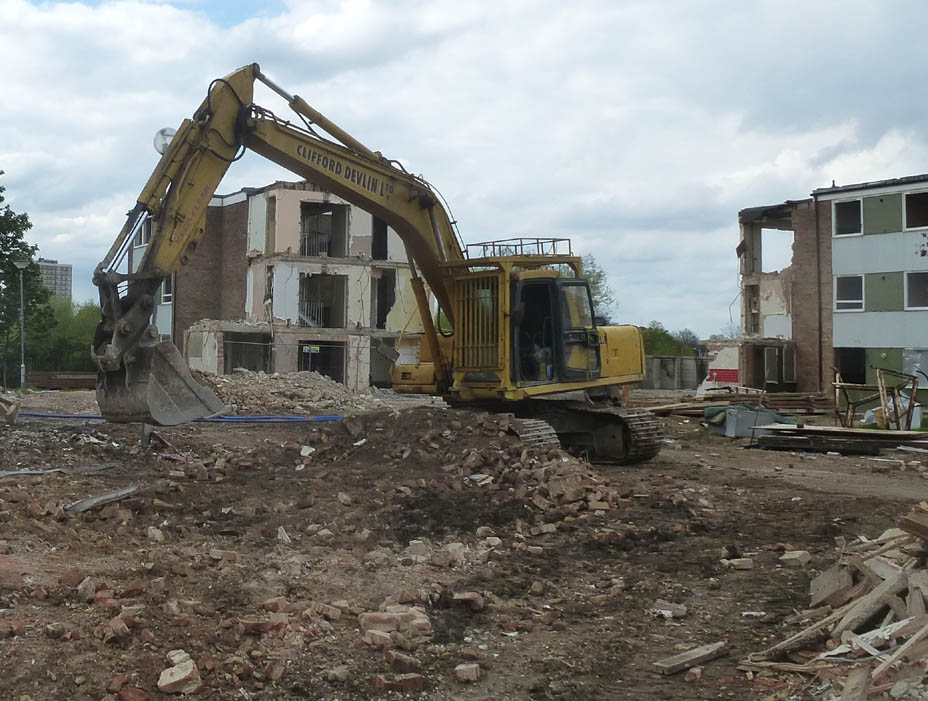 Clifford Devlin's experience of inner city residential demolition was key to winning a series of recent contracts in the capital.
In November we are due to complete a 12-month project to demolish nine medium-rise blocks of flats in Wellington Drive for the London Borough of Barking & Dagenham. The £800k project has also involved asbestos removal and ground remediation to make way for a new housing development in the Borough.
We have also won two contracts to demolish two blocks of flats managed by Hackney Homes.  The two projects, which were procured via London Borough of Hackney's demolition framework, have a combined value of £600k.
Works have started on the demolition of Aikin Court, a 3-storey building, which due to its proximity to occupied areas will be deconstructed carefully on a floor-by-floor basis to minimise air, noise and vibration pollution.
The demolition of a six-storey block, Bridge House, will commence in November with the removal of its roof and top floor. The remainder of the structure will be deconstructed using a long-reach excavator. Works are scheduled for 20 weeks.
"We have developed extensive expertise in the demolition of city-centre residential buildings in the past 20 years," says Operations Director, Les Rose, "Careful deconstruction of the buildings combined with dust suppression enables us to minimise disruption to the local communities that often surround these types of building."
The work is part of the Hackney Council's Six Estates programme – a borough-wide 2,760-home estate regeneration scheme, which is one of London's largest schemes for building homes for social renting, shared ownership, and private sale, now in its fourth year with 201 for social renting, 20 for shared ownership/equity, and 42 for private sale built so far, and more than 300 expected to start on site this year.
Clifford Devlin was first awarded a place on the London Borough of Hackney's demolition Framework in 2008. Since then it has successfully demolished dozens of residential structures in the Borough. In 2008 the Building Research Establishment selected a Clifford Devlin project to demolish blocks at Kings Crescent Estate in Hackney as a waste exemplar due to the high levels of recovery and recycling that were acheived.