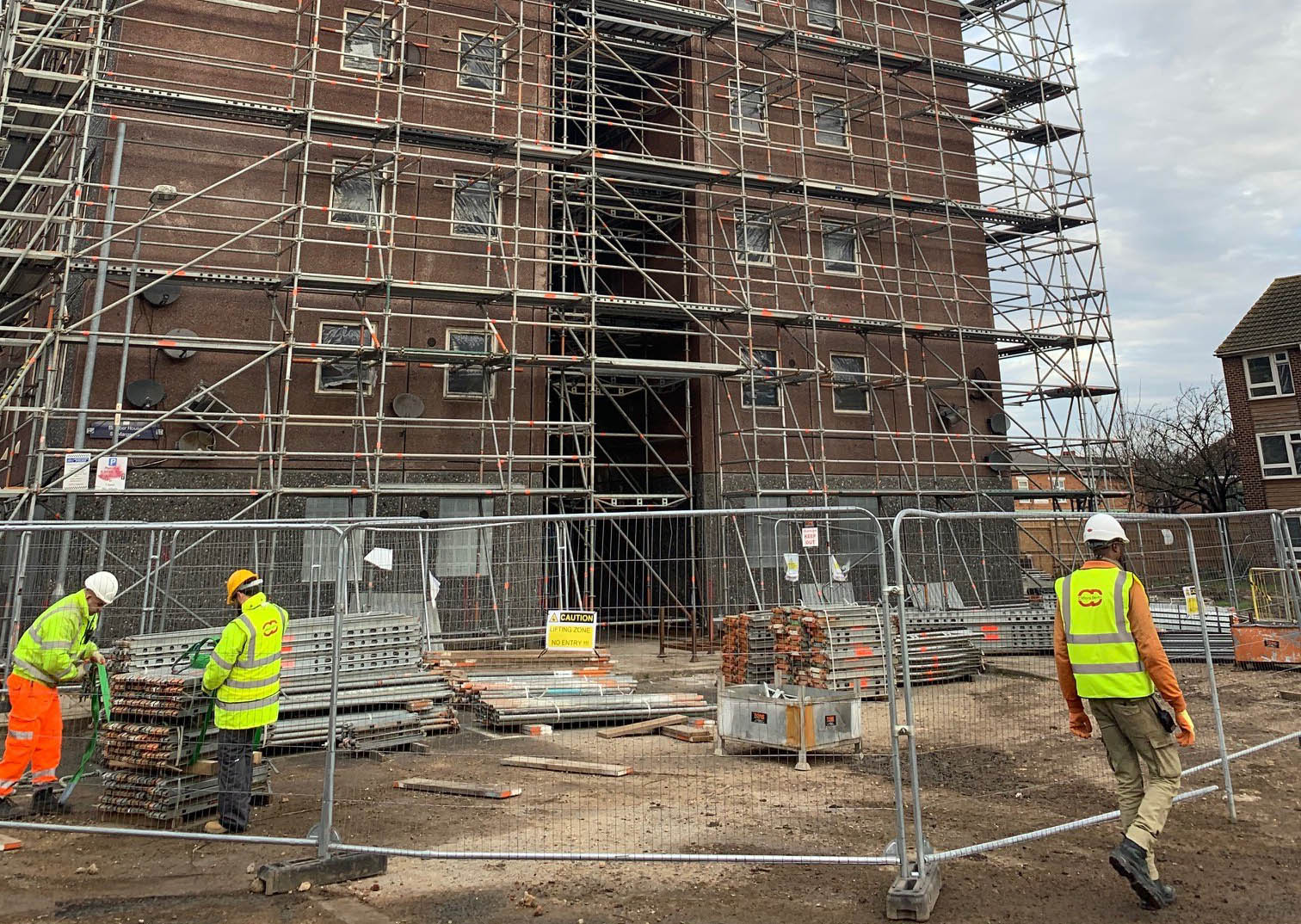 In June 2019 work started on the demolition of ten low-rise residential blocks and one 12-storey tower bock located on the Gascoigne Estate in Barking. The regeneration project, managed by Be First, Barking and Dagenham's regeneration company, is helping to transform the east side of the 1960s Gascoigne estate into a modern, environmentally friendly community.
The eleven-month project entails removal of notifiable and non-notifiable asbestos materials from the buildings such as textured coatings, floor tiles, bitumen and asbestos insulating board (AIB) panels in risers. The remediation is being carefully phased to allow soft strip of the buildings to take place concurrently to reduce programme.
Following this structural demolition will take place. This will involve machine demolition of the low-rise structures using excavators fitted with pulveriser attachments.  The 12-storey block, Bamber House, will be fully scaffolded and carefully deconstructed on a top-down, floor-by-floor basis. Methodologies to reduce noise and vibration combined with dust suppression techniques to maintain air quality will be used to minimise any inconvenience to residents of neighbouring properties.
"I am delighted to have Clifford Devlin on-board for the enabling stages of this project," said Steve Kitchen, Operations Director of the project's building contractor, Willmott Dixon, who will be leading the new build phase, "I have experience of working with them on previous projects and have always been impressed with their professionalism and ability to overcome challenges and get the job done."
In keeping with Clifford Devlin's community engagement policy, the contractor has created an apprenticeship for the project. Following liaison with London Borough of Barking & Dagenham's Construction Team Community Solutions, the contractor interviewed a number of young, unemployed candidates for the position of Trainee Demolition Operative. Alfie Lee was selected in early November and as part of his induction training, he attended Asbestos Awareness and a CCDO Demolition Labourer courses organised by the National Demolition Training Group (NDTG). After attending several online courses at Clifford Devlin's Head Office Alfie started on-site in November shadowing a mentor who will guide him through the early stages of his career. Keen to continue his college studies Clifford Devlin have agreed to accommodate this allowing Alfie to attend Barking & Dagenham College two days per week.
The enabling works are facilitating the redevelopment of the eastern side of the Gascoigne Estate which is taking place in three phases. The first phase of 421 new homes, known as Weavers Quarter, is now complete and has seen large swathes of the old estate demolished and replaced by quality new flats and maisonettes and Greatfields School. Architects have been appointed for Phase 2 and they will make a planning application for 500 new homes at the Northern end of the site.
Phase two and three will deliver a further 1,160 new homes in a mix of affordable rents, shared ownership and for sale. By 2024 a total of more than 1,575 new homes will be built together with:
a new medical centre
flexible commercial floorspace
an energy centre
public open spaces
a new primary school
a secondary school
a community centre
retail space
play areas for children
Clifford Devlin has successfully delivered a number of enabling projects for the London Borough of Barking & Dagenham in recent years to facilitate its housing redevelopment strategy including Birdbrooke Close and Wellington Drive.