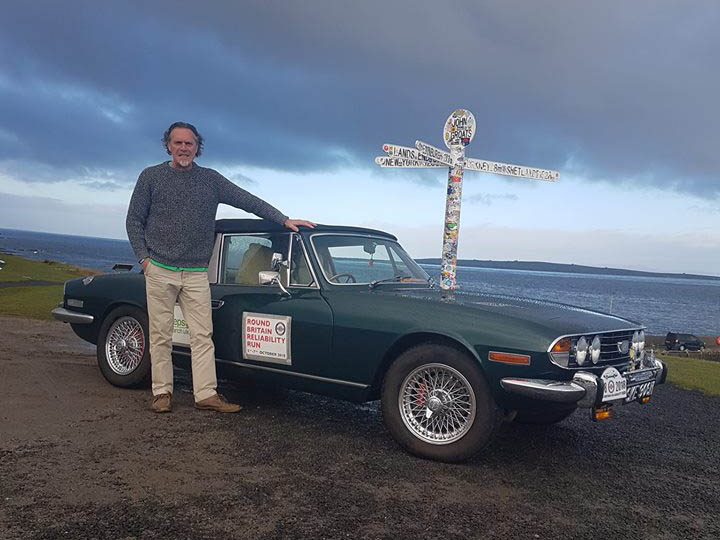 Clifford Devlin was happy to support the 2018 Club Triumph's 'Round Britain Reliability Run' (RBRR) which, this year, is raising funds for Epilepsy Research UK. The company donated directedly to the fundraising for the event by health & safety consultant, Aubrey Hawkins, who has so-far raised over £3000 alone.
The RBRR involves a round-Britain car trip in 48 hours. The event, which was established by Club Triumph's President, Derek Pollock, in 1966, is held every two years and raises funds for a different charity each time.
Aubrey Hawkins and co-driver, Mary Richardson, started their journey in a 1974 Triumph Stag at Knebworth House in Hertfordshire at 6pm on Friday 5th October 2018. Twelve hours later they arrived in the village of John O'Groats in Scotland at the northern-most tip of the UK. After nearly 1700 miles of almost non-stop driving they arrived back in Norfolk via Stirling and Monmouth at 10am on Sunday 7th October.
"Clifford Devlin is a socially responsible organisation and we believe in giving something back to the communities in which we work," said Managing Director, Tim Clifford, "This can take the form of direct charity donations, local employment initiatives or sponsorship of worthy activities and causes".
In the last two years Clifford Devlin has donated to Kier's 24-hour walking challenge for the Alzheimers Society and the Grenfell Tower Appeal as well as sponsoring the Essex Comets junior football team and a local amateur boxer for Cancer Research UK.
Following the terrorist attacks in London in 2017 the company also encouraged local businesses to donate money to pay for free meals for the Police and Ambulance services at a local café used regularly by both.  Some of the service people who benefited were amongst the first responders at both Westminster Bridge and Borough market.
Aubrey Hawkins' eponymous health & safety consultancy is based in Norfolk and provides a wide range of activities to support the construction sector in the South East including: H&S audits and training, CDM consultancy, asbestos surveys & management, training and Drug & Alcohol screening. For further information visit www.aubreyhawkins.co.uk.
Over 32,000 people are diagnosed with epilepsy in the UK each year of which over one thousand die as a direct result of the neurological disorder or related causes.