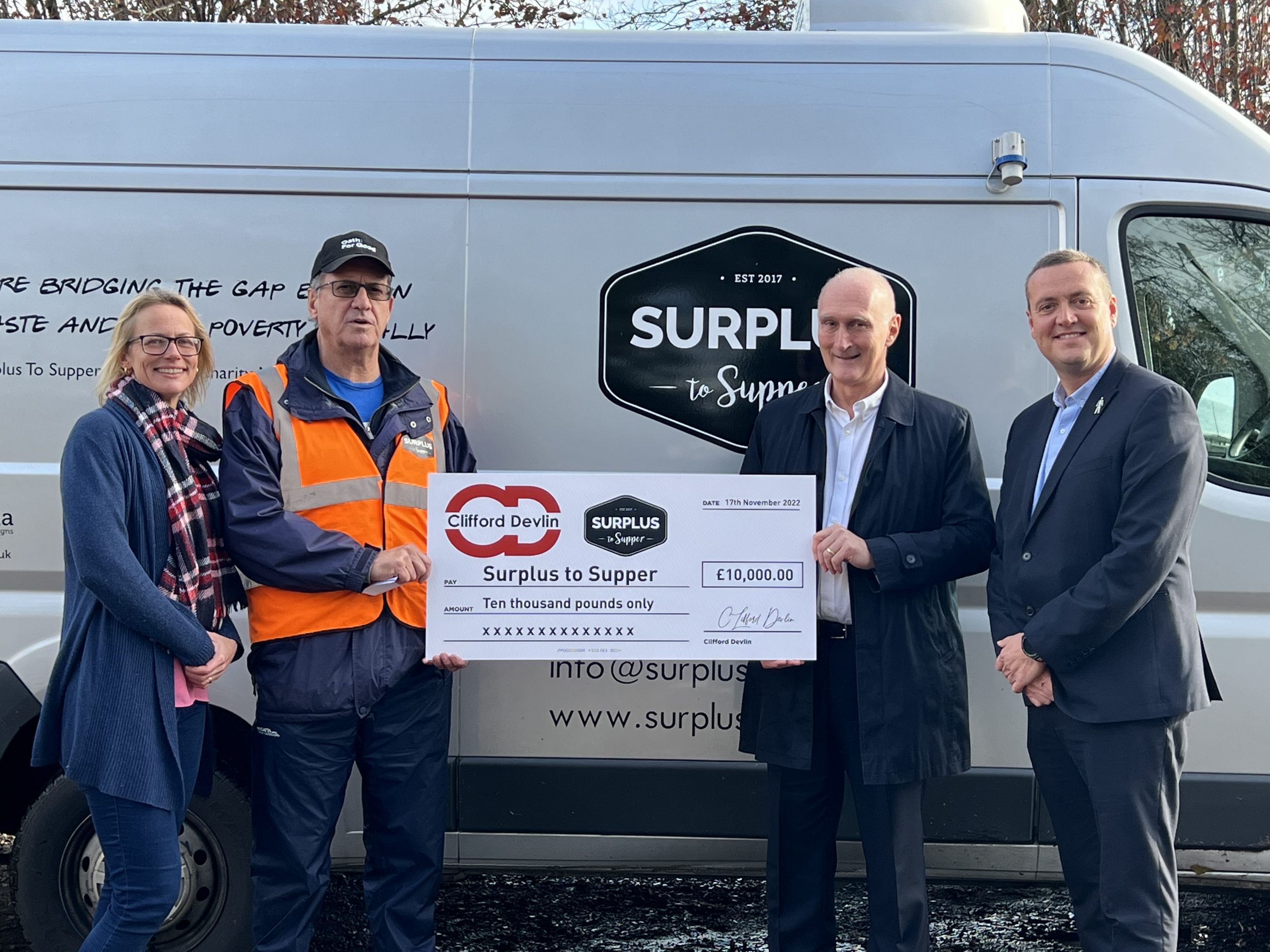 Clifford Devlin have donated to Surplus to Supper, a charity who's mission is to bridge the gap between food waste and food poverty locally.
Whilst we donate to a food bank local to our head office, bimonthly, Surplus to Supper provided an opportunity for Clifford Devlin to support a charity which was local to some of our site operations and give them some additional support in the build up to Christmas.
The charity currently collects and donates on average 10 tons of food per week and redistributes it to foodbanks, schools, care homes, shelters, clubs, refuges, religious organisations and more. Not only does this prevent food going to waste, but it also ensures that a lot of people get help that would otherwise go without.
Claire, the Operations & Development Director at Surplus to Supper said ''The trustees, management, and volunteers at Surplus to Supper would like to thank Clifford Devlin for their very generous donation. This is a transformative amount of money for our charity, and it will enable us to further increase our reach and scope of services bridging the gap between food waste and food poverty.''
Following a visit to their head quarters at Sunbury Cricket Club, it became apparent that there is scope for future donation opportunities with surplus materials from our demolition and construction sites. The charity is extremely well connected with the local community and can put us in touch with people that need left over materials and furniture, etc that we often clear from site. The items would be used for people that have had to leave their current homes with nothing for personal reasons.
If we can donate these items to people that need them, it will cut down on our materials going to waste as well as improvements in the circular economy of the projects that we work on.
We have a few opportunities that we are working on now and very much look forward to building a partnership with Surplus to Supper.