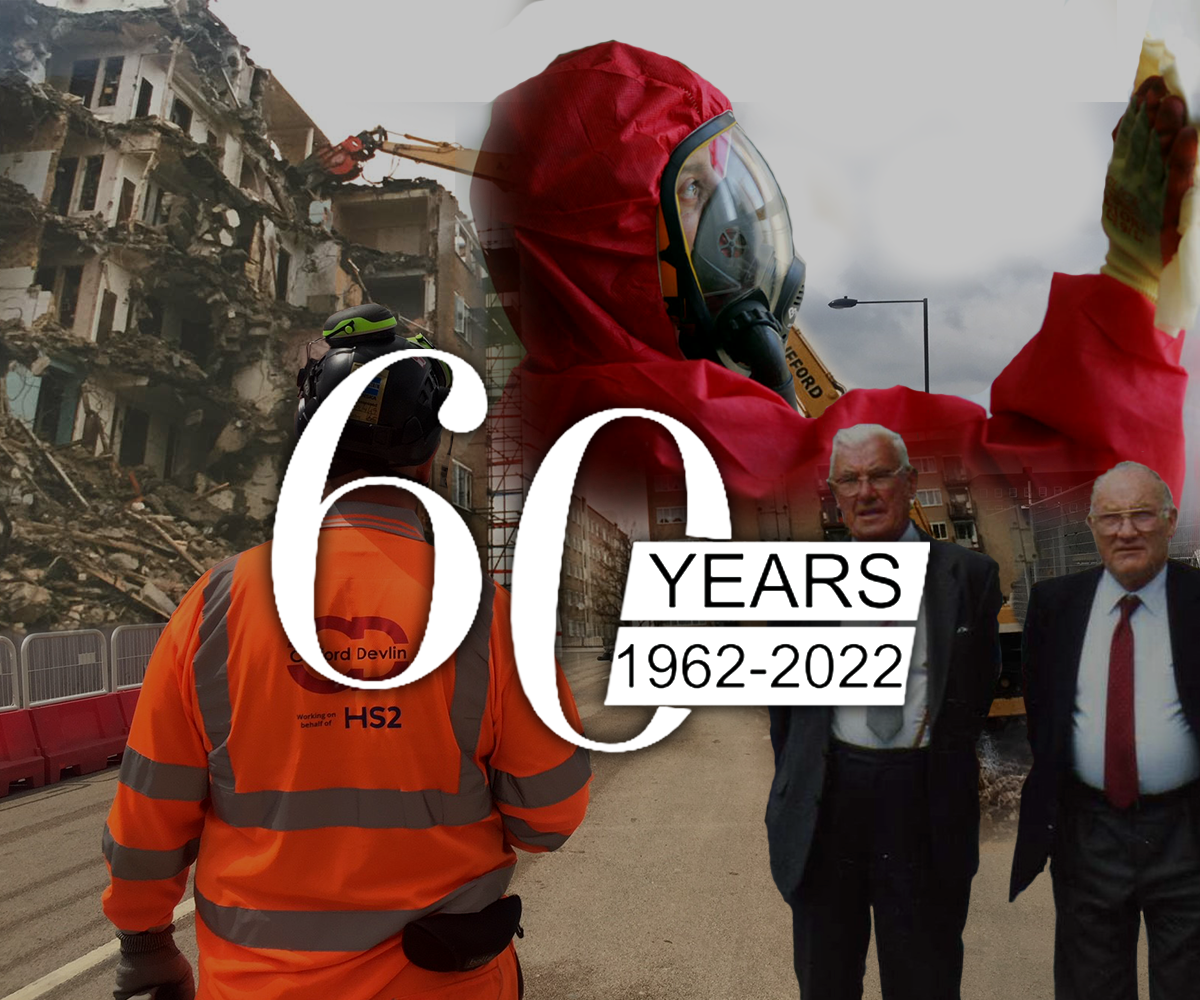 Essex-based construction company, Clifford Devlin, is celebrating its 60th Anniversary this March. The firm has been a fixture of the capital's enabling works sector since 1962 when Peter Clifford and Alphonsusous ("Foncie") Devlin established the business in North London.
"Much has changed in the industry since then," says Peter's son, Tim Clifford, who remains the company's incumbent Managing Director, "In the 1960s asbestos was still being used as a building product while demolition was largely unregulated and bore little resemblance to the professional, licensed and sustainable industry it has become."
The business actually started life as Clifford Devlin Transport Limited (it changed to Clifford Devlin Limited in 1997) and originally provided transport and disposal of hardcore and other wastes from demolition sites in the capital. By 1965 the Kentish Town-based business was undertaking demolition projects in its own right. In 1969 Peter bought-out Foncie's stake but, given its burgeoning reputation, decided for the sake of continuity, to retain the original name.
A year later the company registered with the trade association – the National Federation of Demolition Contractors (NFDC). It left its North London base in 1972 to set-up a depot in Stepney, East London and relocated its Head Office again in 1989 to Bow. After 32 years it finally left London to relocate to a purpose-built facility in Thurrock, Essex.
Peter brought his son Tim in to run the company's Transport Division and in 1984 Les Rose, was lured from Sindall Construction to head-up demolition operations which were becoming increasingly complex. Peter's daughter Siobhan has been responsible for the administration and accounting at the business since 1983.
The business established its own Asbestos Division in the 1980's to deal with the hazardous substance encountered during the course of its demolition projects. In 1984 it became one of only a handful of companies to be awarded a 5-year licence to remove Notifiable asbestos material by the Health & Safety Executive (HSE). The Division now carries out projects in its own right and accounts for over a quarter of the company's £15 million turnover.
Further diversification in the 1990's saw the establishment of a Building Division and the formation of Clifford Construction Limited to carry out all types of refurbishment and general building work. In 1997 the division was integrated into Clifford Devlin Limited and prospers as the company's Building Works Division today.
In 1999 the company delivered its first £1 million plus project – the strip-out and cut-and-carve demolition of an 8-storey office block in Mayfair Place, London W1. Steady, incremental growth and sustained investment in human resources and management systems culminated in 2007 when the company was appointed as a tier-2 demolition contractor for the enabling works for the 2012 Olympic Project. Eleven years later it won a place on the demolition framework for another landmark civil engineering scheme, HS2.
The company had remained family-owned and family-run since founder Peter Clifford's passing in 2010 but seeking to gradually reduce their workload while maintaining continuity the family's second generation announced in February 2021 that Clifford Devlin would transition its ownership structure to an Employee Ownership Trust (EOT). As part of this restructuring exercise the company's existing Management Board were appointed as full Board members, creating directorships for Liam Hennessy (Operations), Martin Doble (Building Works), Derek Aslett (Commercial) and Ian O'Connor (HSQE).
Tim Clifford, who remains as Managing Director, believes the move to employee ownership will help secure the long-term future of the Clifford Devlin brand:
"The EOT route will enable us to transition the ownership structure without the potential disruption a sale to new owners might involve, thereby maintaining continuity of brand, culture and business process which is what our father would have wanted," says Tim, "It is also an opportunity for us to recognise and reward the contribution our staff make to the development and continued success of the company".