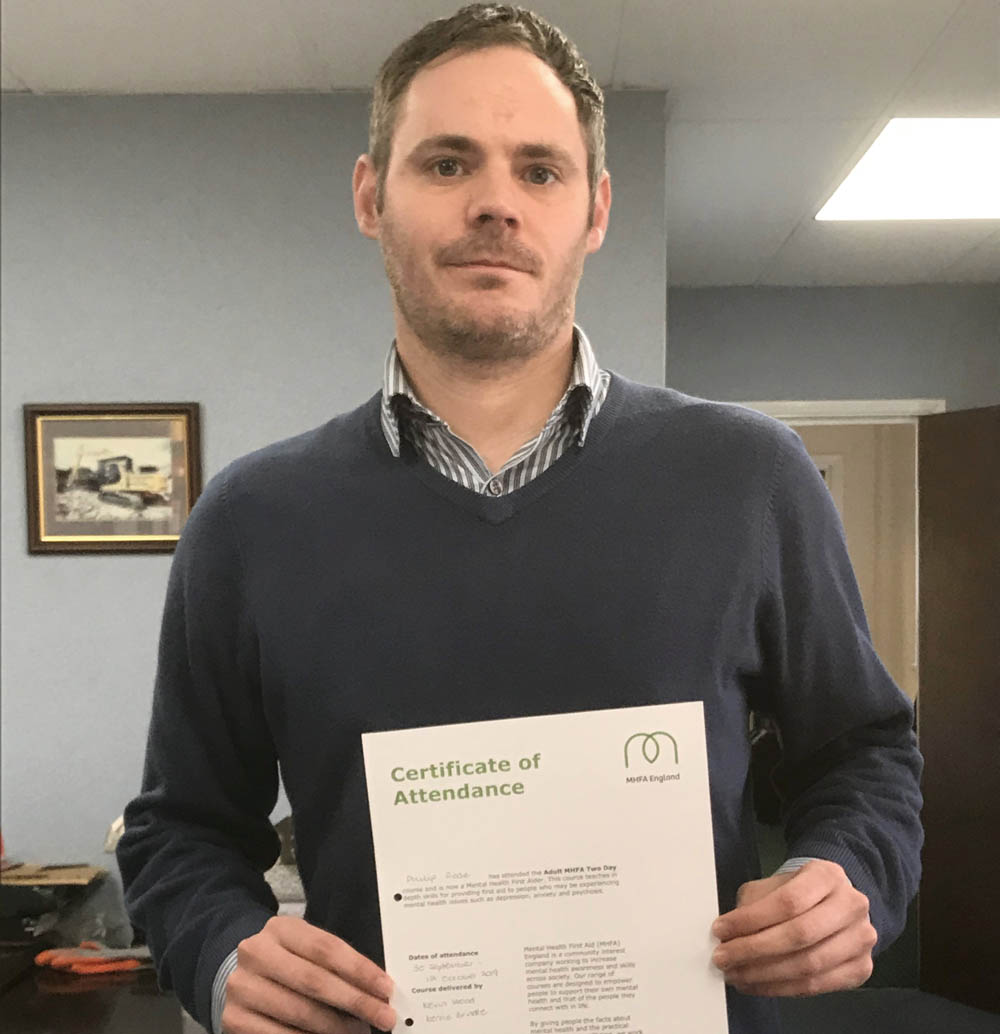 After completing a two-day course, Phil Rose has qualified to become Clifford Devlin's inaugural Mental Health First Aider. Phil, who is a member of the company's in-house health and safety team, attended the course organised by Mental Health First Aid England (MHFA) in December. The two-day adult training seminar instructs attendees in skills for providing first aid to people who may be experiencing mental health issues such as depression, anxiety and psychosis. The course covers:
An in-depth understanding of mental health and the factors that can affect wellbeing
Practical skills to spot the triggers and signs of mental health issues
Confidence to step in, reassure and support a person in distress
Enhanced interpersonal skills such as non-judgemental listening
Knowledge to help someone recover their health by guiding them to further support – whether that is self-help resources, through their employer, the NHS, or a mix
As the company's official Mental Health First Aider Phil is now the go-to person for anyone who is going through some form of mental health issue. His role will be to record the issue and assist and guide the person in distress to locate the relevant help that they need. Phil now also has the knowledge to be able to identify someone may be developing a mental health issue and intervene before the issue escalates.
The construction sector has a particularly acute issue with mental health as Clifford Devlin's Group Health & Safety Manager, Ian O'Connor, explains:
"Male construction workers are three times more likely to commit suicide than the average UK male. This shocking mental health statistic is a vivid reminder of the difficulties faced by many working in the construction industry every day."
Data from the Office of National Statistics reveals that between 2011 and 2015, of the 13,232 in-work suicides recorded, those within the skilled construction and building trades made up 13.2% – despite construction accounting for little over seven per cent of the UK workforce.
"The construction industry lifestyle which can include long and demanding working hours, working away from home on site for lengthy periods are just some of the factors contributing to poor mental health," Ian continues, "The 'tough guy' image widespread in the sector which is predominantly male only serves to exacerbate the problem. By establishing mental health as a key item in our H&S risk toolkit and propagating Phil's new skills and knowledge throughout the company should help us identify any staff that may be experiencing difficulties before it is too late."
Phil is now part of a community of over 350,000 people in England and 2.6 million people worldwide who are trained to recognise mental ill health and help people find the support and assistance they need.
An additional paid day's holiday for employees on 23rd December was named Mental Health Day by the company. Advice sheets were circulated to all staff to raise awareness of the issue and encourage them to spend at least some of the extra free-time relaxing and reflecting upon their mental health.