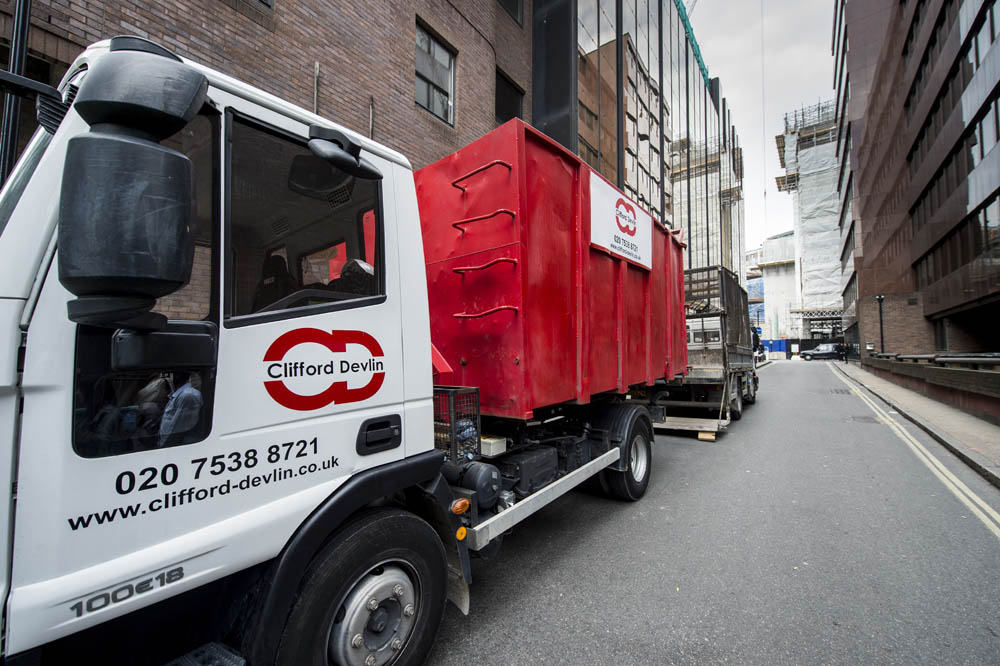 Clifford Devlin's continuous programme of replacing vehicles and machinery with EURO VI-compliant models allows us to continue to fulfill Central London projects even after the Ultra Low Emission Zone (ULEZ) has come into force.
Recent fleet purchases including nine new Ford Transit 350 vans enable us to provide logistics and asbestos services in the ULEZ zone while the acquisition of three new 8-tonne, 20-tonne and 33-tonne Luigong excavators allow us to provide demolition within the Central London LEZ zone for Non-Road Mobile Machinery (NRMM) and continue to be compliant when it is superseded by a ULEZ for plant next year.
Introduced in April, ULEZ, requires all lorries and heavier vans entering the centre of the capital to meet EURO VI emissions standards. Under TfL's environmental initiative heavy goods vehicles (HGVs) entering Central London must meet Euro VI standards or pay a £100 daily charge. The Mayor of London, Sadiq Khan, hopes ULEZ will reduce noxious nitrogen oxide (NOx) emissions in Central London by 45%.
It is estimated that a third of construction vehicles delivering to sites in London's ULEZ are not compliant with the tighter exhaust requirements, according to industry logistics specialist Wilson James.
The Greater London Authority also introduced standards to reduce emissions of construction plant by creating a LEZ for NRMMs in 2015. A second phase will be introduced in September 2020 which will require NRMMs in the Central Activity Zone or Canary Wharf to meet Stage IV of the Directive as a minimum.
"Our new plant will enable us to comply with the NRMM ULEZ a year early and provide a seamless demolition service in Central London," said Clifford Devlin's Operations Director, Les Rose, "The company's fleet and plant replacement programme shows it is committed to reducing emissions and protecting the health of those affected by our works."
It is estimated that NRMM used on construction sites are responsible for 7% of NOx emissions in Greater London.
Clifford Devlin is currently trialing a number of hybrid and electric vehicles in a bid to further reduce emissions and also cut the carbon footprint of the company's activity.