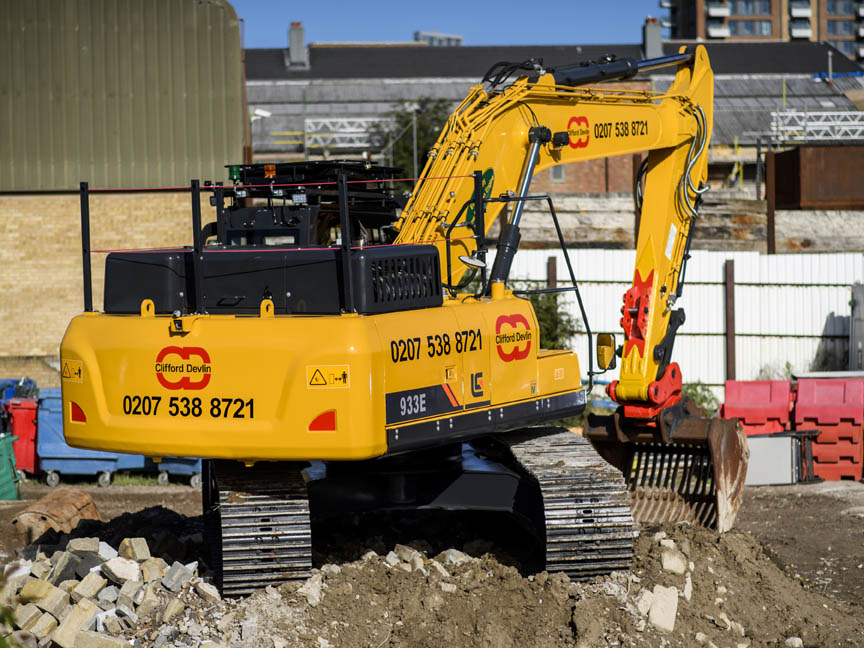 We have added two high-performance excavators to augment our demolition plant. The new Liugong Machines are EURO VI compliant which means they can be used in London's Ultra Low Emission Zone (ULEZ).
"These new 25-tonne and 33-tonne excavators will enable us to comply with the ULEZ standard two years before it comes into force whilst also reducing our and clients' carbon footprints by using plant that emits lower emissions into the atmosphere," said Clifford Devlin's Operations Director, Les Rose.
Since 2008, heavy duty diesel road vehicles have had to meet emissions standards to avoid being charged for travelling within the London Low Emission Zone (LEZ). The Mayor has recently announced his intention to introduce an ultra-low emission zone (ULEZ) in central London from 2020. This will require all vehicles to be either zero or ultra-low emission.
"Clifford Devlin is committed to reduce emissions from non-road mobile machinery (NRMM) to protect and improve the health of those affected by our works," continues Les Rose.
The latest version of the London Atmospheric Emissions Inventory estimates that in 2013 the NRMM used on construction sites was responsible for 7% of NOx emissions in Greater London. To address this significant contribution by non-road mobile machinery to London's poor air quality the Greater London Authority (GLA) has put in place policies to control the emissions from this equipment by establishing emissions standards for London.
From 1st September 2020, NRMM used on any site within Greater London will be required to meet Stage IIIB of the Directive as a minimum whilst NRMM used on any site within the Central Activity Zone or Canary Wharf will be required to meet Stage IV of the Directive as a minimum.
Clifford Devlin specialises in city-centre demolition with particular focus on complex Central-London projects to facilitate commercial and infrastructure developments which require additional measures to protect and preserve the local environment such as pollution control, traffic management and community relations.