Clifford Devlin is doing its bit to support the sport's grassroots development, therefore helping people to lead healthier lives, develop new skills for employment and to engage with their local communities.
As part of Clifford Devlin's ongoing commitment to community engagement and support for local initiatives, we are pleased to announce a 2-year kit sponsorship deal with Essex-based, Hashtag United FC's Under 15s team. Hashtag United FC are the unique football and esports club founded by Spencer Owen.
The team also features our Senior Asbestos Contracts Manager, Mark Collins' son Ben. Clifford Devlin will be the front of shirt sponsor and the sponsorship will begin with immediate effect, remaining until the completion of the 2024 season.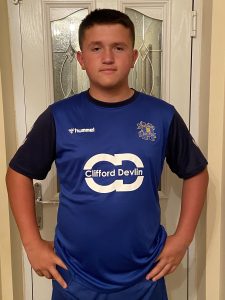 "I wanted to offer a thank you to Clifford Devlin for agreeing a two year sponsorship deal with our Under 15 whites team, I'd also like to provide them some more information about the club and how their sponsorship continues to support grassroots players development.
Three years ago we successfully actioned three way merger between Forest Glade, AFC Basildon Ladies and Hashtag United. This resulted in approximately 45 teams coming under the clubs name of Hashtag United and creating a senior club. We now have pathways for all of our boys and girls from the ages of 3.5 (our Little Tags Section) through to our senior ladies and mens team who are represented in tier 3 mens and tier 4 ladies.
Our aim is to understand the local communities needs and support them where we can. More recently we have introduced two new sections as outlined:
Walking football for members of our community who have early stages of Dementia.
Offer sociability to children and young adults with various levels of both neurological or physical disability, with us now catering for over 40 new members.
As a valued club sponsor, Clifford Devlin have enabled us to keep down our registration fees for members, which in turn allows us to put more back into our coaching development, facilities and players training along with also providing smart new kits for our Under 15 white team.
Our U15 White team will be representing us in the Brentwood Premier Division and Essex County Cup competition. After a successful campaign last season in the Southend Junior League Premier Division the team decided to transfer into the Brentwood League for a new challenge. We hope we can achieve success again lead by our team captain Ben Collins in our new Clifford Devlin sponsored kit" – Michael Broadbent, U15s Team Manager.